Mount and Blade Warband - WORKING MULTIPLAYER Portable Multilingual - by iMortaluz
Internal Files
Mount&Blade Warband Portable +Multiplayer by iMortaluz.rar
Mount&Blade Warband Portable +Multiplayer by iMortaluz.rar 558.57 MB
Hash Code
8fc8b37a420c60ffec7d082fd5416116da125bd0
Description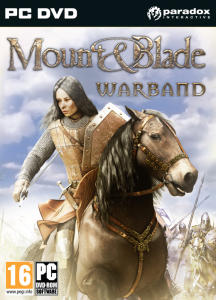 Requirements:
- .net Framework 3.5:
www.7usb.tk/framework
- DirectX 9 (included), 1GB RAM
Languages included: English, German, Polish, French, Chinese, Turkish
How to play:
1) Extract and run "change language" to change the language
2) Start "Mount&Blade by iMortaluz.exe"
(If you are going to use M&B on multiple computers e.g. from a USB drive, start "[USB drives] Mount&Blade by iMortaluz.exe" instead. All settings/save games will be stored under "Mount&Blade Warband by iMortaluzUSERDATA" instead of your documents)
3) Enjoy playing online for FREE!
#################################
-IMPORTANT: DON'T UPDATE. Updates will destroy the crack!
-IMPORTANT: you MUST be connected to the internet to play on LAN!
-If the game doesn't start - INSTALL DirectX (included)
-If you are banned or can't join any server, run mbreg (included)
#################################
How to host your own server:
-forward & unblock port 7240 (google is your friend!)
-browse to Mount&Blade Warband by iMortaluz, edit SERVERconfig (google is really your friend!)
-start Dedicated Server.bat
#################################
If ever asked for a SERIAL, use:
ARZG RS43 NTXX DTQA
or
YDZE HDDJ EYCN XPC7
(this shouldn't be necessary)
#################################
Game description:
In a land torn asunder by incessant warfare, it is time to
assemble your own band of hardened warriors and enter the
fray. Lead your men into battle, expand your realm, and claim
the ultimate prize: the throne of Calradia! Mount & Blade:
Warband is the eagerly anticipated sequel for the game that
brought medieval battlefields to life with its realistic
mounted combat and detailed fighting system.
Multiplayer battles with up to 64 players. Multiplayer modes
include Deathmatch, Team Deathmatch, Capture the Flag,
Conquest, Battle, and Siege
A campaign allowing you to become the ruler of a faction and
convince lords to become your vassals
The ability to upgrade your companions to vassals by granting
them lands
#################################
Portabled by iMortaluz
Credits go to Lakky and Itorian for cracking the game
Official forum: www.7usb.tk
Torrent location
http://h33t.com/tor/458869/mount-and-blade-warband-working-multiplayer-portable-multilingual-by-imortaluz
Scrape History ( seeds + peers )
Trackers
Refresh Leechers : Updated January 31, 2016
1. http://10.rarbg.com/announce
2. http://ipv6.tracker.harry.lu:80/announce
3. http://ipv4.tracker.harry.lu/announce
4. udp://tracker.openbittorrent.com:80
5. http://tv.tracker.prq.to/announce
6. http://tracker.torrent.to:2710/announce
7. http://tracker.torrentbay.to:6969/announce
8. http://pow7.com:80/announce
9. udp://tracker.openbittorrent.com:80/announce
Comments
You must log in to add a comment.
Related torrents
Top Games
( auto generated report )