Roswell Six (Full Discography) (2 Albums) (2009-2010) (MP3 @ 320Kbps) [h33t][Vourligan]
Internal Files
Roswell Six
(2009) Terra Incognita Beyond The Horizon
01-roswell_six-ishalem.mp3 18.37 MB
02-roswell_six-the_call_of_the_sea.mp3 10.17 MB
03-roswell_six-i_am_the_point.mp3 8.75 MB
04-roswell_six-letters_in_a_bottle.mp3 7.04 MB
05-roswell_six-halfway.mp3 5.54 MB
06-roswell_six-anchored.mp3 6.49 MB
07-roswell_six-here_be_monsters.mp3 7.96 MB
08-roswell_six-the_sinking_of_the_luminara_(instrumental).mp3 8.77 MB
09-roswell_six-the_winds_of_war.mp3 7.07 MB
10-roswell_six-swept_away.mp3 6.33 MB
11-roswell_six-beyond_the_horizon.mp3 7.07 MB
12-roswell_six-merciful_tides.mp3 8.54 MB
13-roswell_six-the_edge_of_the_world_(instrumental).mp3 7.41 MB
SPV452762.jpg 122.02 KB
(2010) Terra Incognita A Line In The Sand
00-roswell_six-terra_incognita_a_line_in_the_sand-2010-back.jpg 2.32 MB
00-roswell_six-terra_incognita_a_line_in_the_sand-2010-front.jpg 1.67 MB
01-roswell_six-barricade.mp3 12.82 MB
02-roswell_six-whirlwind.mp3 7.77 MB
03-roswell_six-the_crown.mp3 8.55 MB
04-roswell_six-loyalty.mp3 8.27 MB
05-roswell_six-my_fathers_son.mp3 9.54 MB
06-roswell_six-when_god_smiled_on_us.mp3 8.9 MB
07-roswell_six-need.mp3 8.81 MB
08-roswell_six-spiral.mp3 10.82 MB
09-roswell_six-battleground_(instrumental).mp3 9.7 MB
10-roswell_six-victory.mp3 13.6 MB
Hash Code
c92a55b50e2fa202d21237d9b994d01840e01dec
Description
Roswell Six FULL DISCOGRAPHY
Last year bestselling author Kevin J. Anderson and ProgRock Records introduced Terra Incognita: An innovative crossover project of fantasy on a grand scale— an epic novel and companion progressive-rock CD. Acclaimed author Anderson developed the universe and story of "Terra Incognita," a tale of sailing ships, sea monsters, and the crusades. The first novel in the series, THE EDGE OF THE WORLD, was released in June 2010 in tandem with a new CD by the supergroup Roswell Six, with lyrics written by Anderson and his wife, bestselling author Rebecca Moesta, and music/producing by Erik Norlander (Rocket Scientists, etc.) Several reviewers and music sites listed "Terra Incognita: Beyond the Horizon" among the best prog CDs of the year. .... Following up the success of the first effort, Anderson and ProgRock Records announce the second Terra Incognita CD, "A Line in the Sand" to coincide with the publication of the second novel, ..THE MAP OF ALL THINGS... "This CD features a different, grittier part of the story, focusing on the devastating generations-long war between continents, and it has an entirely different sound," said Anderson. .... This time, the music is helmed by Henning Pauly (Frameshift, Chain, Shadows Mignon) and features some artists returning from the first CD as well as new performers. "Henning is absolutely perfect for this type of music, with hard-driving guitars, passion, and thought-provoking complexity," said Shawn Gordon of PRR. "Kevin's been a fan of Henning's music for years, and this seemed to be a perfect match.".... "Terra Incognita: A Line in the Sand" Vocals are by rock legends Steve Walsh (Kansas), Michael Sadler (ex-Saga), Sass Jordan (Album Rock's Female Vocalist of the Year), Alexander Froese (Frameshift) and Nick Storr (The Third Ending) and guest appearances by Charlie Dominici (solo, original Dream Theater vocalist), Juan Roos (Shadow's Mignon) and Arjen Lucassen (Ayreon and many others). Anderson and Moesta penned the lyrics/story again and even cowrote two songs with multi-Grammy winner Janis Ian ("Society's Child," "At Seventeen," etc.). Due to commitments to their own bands/projects, Erik Norlander and some of the original performers were unable to participate in the second CD. .... "With two CDs and two novels, this takes Terra Incognita into unprecedented territory," said Anderson. "Progressive rock has always focused on story and ideas. The union of music and prose has never before been done on this scale." Both "A Line in the Sand" (ProgRock Records) and THE MAP OF ALL THINGS (Orbit Books) will be released in June 2010. .... ..
Taken From Their
Myspace
Line up:
Vocals: Lana Lane (Adrea), Michael Sadler (Criston), James LaBrie (Soldan-Shah Omra), John Payne (Captain Shay)
Keyboards: Erik Norlander
Guitar: Gary Wehrkamp, Chris Brown
Bass: Kurt Barabas
Drums: Chris Quirarte
Violin: David Ragsdale
Cello: Mike Alvarez
Flute: Martin Orford
- Format: MP3
- Quality/bitrate: 320Kbps
- Name of artist/publisher: Roswell Six / ProgRock Records
- Country: USA, California
- Genre: Alternative / Progressive / Rock
- Release dates: 2009 & 2010
- Albums & Track Lists:
Terra Incognita: Beyond the Horizon [2009]
1 Ishalem 11:02
2 The Call of the Sea 6:27
3 I Am the Point 5:44
4 Letters in a Bottle 5:04
5 Halfway 4:08
6 Anchored 4:42
7 Here Be Monsters 5:31
8 The Sinking of the Luminara 5:43
9 The Winds of War 4:51
10 Swept Away 4:20
11 Beyond the Horizon 5:11
12 Merciful Tides 5:08
13 The Edge of the World 4:42
Terra Incognita: A Line in the Sand [2010]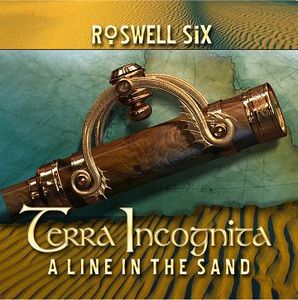 1 Barricade
2 Whirlwind
3 The Crown
4 Loyalty
5 My Father's Son
6 When God Smiled on Us
7 Need
8 Spiral
9 Battleground
10 Victory
If you like their music please support them. Buy their CDs like i did.
Enjoy
Vourligan
Torrent location
http://h33t.com/details.php?id=c92a55b50e2fa202d21237d9b994d01840e01dec
Scrape History ( seeds + peers )
Comments
You must log in to add a comment.
Related torrents
| FILENAME | SIZE | SEEDS | PEERS | ADDED | UPD |
| --- | --- | --- | --- | --- | --- |
| [WoodmanCastingX] Victoria Roswell (Updated - Casting X 131 - 22.04.16) rq (540p).mp4 | 1.03 GB | 24 | 2 | 6 months | 2 months |
| Ancient.Aliens.S11E13.Beyond.Roswell.720p.HDTV.x264-DHD[PRiME] | 900 MB | 12 | 2 | 2 months | 1 month |
| Ancient Aliens S11E13 Beyond Roswell 720p HDTV x264-DHD | 893.41 MB | 11 | 1 | 2 months | 1 month |
| Invasión Roswell (Los Exterminadores) [DVDrip][XViD][Español][Spanish] | 1.1 GB | 10 | 1 | 1 year | 6 months |
| Roswell (1999)TV Series | 20.85 GB | 7 | 4 | 4 years | 9 months |
| Roswell: W kręgu tajemnic - Roswell Season 1-3 [DVDRip.Xvid-Zryty_TB] [Lektor PL] [Ekipa TnT] | 20.58 GB | 4 | 3 | 4 years | 9 months |
| WoodmanCastingX - Victoria Roswell (Updated - Casting X 131) XXX NEW Released 22-04-2016 | 1.03 GB | 4 | 2 | 6 months | 2 months |
| Unsealed.Alien.Files.S01E19.Roswell.and.Area.51.HDTV.x264-tNe | 134.32 MB | 2 | 0 | 3 years | 2 months |
| The Roswell Conspiracy Boyd Morrison epub mobi | 996 KB | 1 | 0 | 3 years | 7 months |
| Invasion.Roswell.2013.1080p.BluRay.x264-ENCOUNTERS [PublicHD] | 5.24 GB | 1 | 0 | 2 years | 7 months |
Top Music
( auto generated report )